RECLAIMED CHINESE ELM FLOORING & MILLWORK
One of the oldest reclaimed woods
We acquire our Reclaimed Chinese Elm from old structures that are being taken down in China to make way for modernization. These ancient buildings range from 100 to 600 years old. Some date back to the Ming Dynasty. 
Much of our raw material in Reclaimed Chinese Elm comes from entrance doors of old houses that have been worn silky smooth by Chinese hands.
Chinese Elm is the hardest of all of the Elms. Because of its superior hardness, toughness and resistance to splitting, it is said to be the best of all woods for chisel handles and similar uses.
Chinese Elm lumber is used most for furniture, cabinets, veneer, and wide plank flooring. Its heartwood ranges from reddish brown to light tan and its grain is often handsome and dramatic.
Chinese Elm contains silica which is hard on planer knives and chainsaws, but it sands fairly easily. This water resistant wood takes most finishes and stains with ease.
Random Width Wide Plank Flooring
The look and feel of random width flooring in Reclaimed Chinese Elm is unmistakeably beautiful. The idea of using planks of varying widths came from some of the very first floors created in America. Standard dimensions are: 3/4″ x [3.25″, 5″, 6.1″, 7″, 9″, 11″] x 6.0′, 7.2′ in nested bundles. Other widths and lengths are available by special request.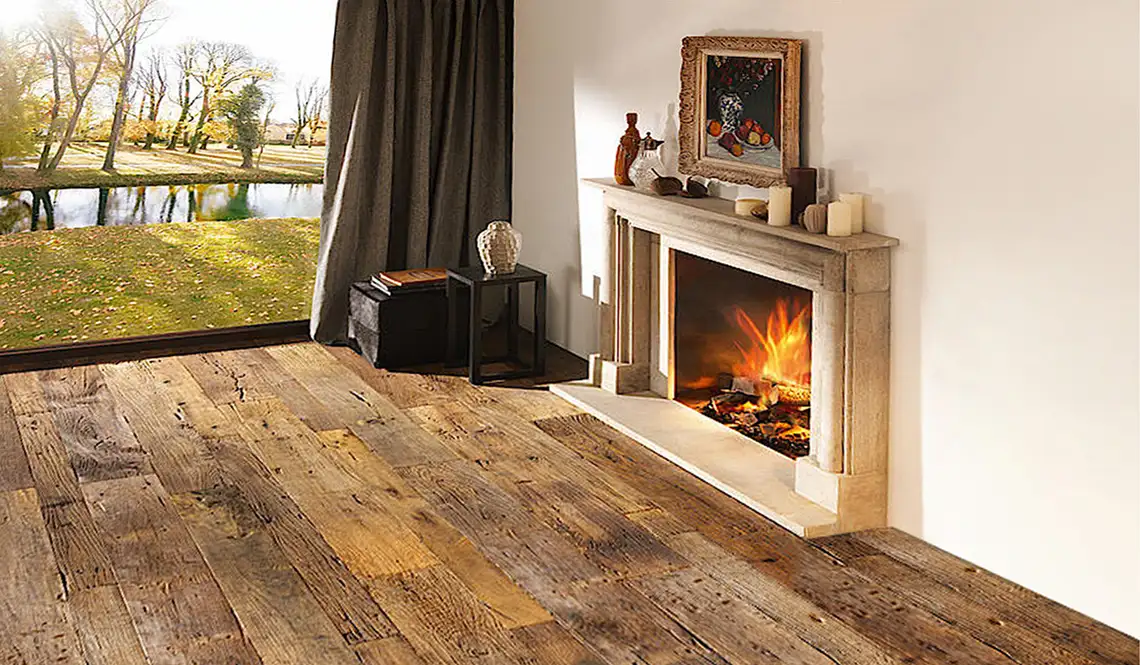 The rich character of Reclaimed Chinese Elm offers an almost unlimited number of combinations of parquet designs.
The video above shows the first of two full plank by plank inspections of a large Reclaimed Chinese Elm flooring order for one of our customers in The Bahamas.